The Trip
Princess Katharine offers an hourly water taxi service between Cardiff Bay CF10 4PZ and Cardiff City Centre CF10 1BJ. Board at either point. Each way takes 25 minutes, so you can get off and explore, then join us for the return trip a little later OR stay on board for a relaxing 1 hour long cruise, back to where you joined the boat.
Fascinating commentary throughout the trip, telling of the history the area and sights you will see along the way.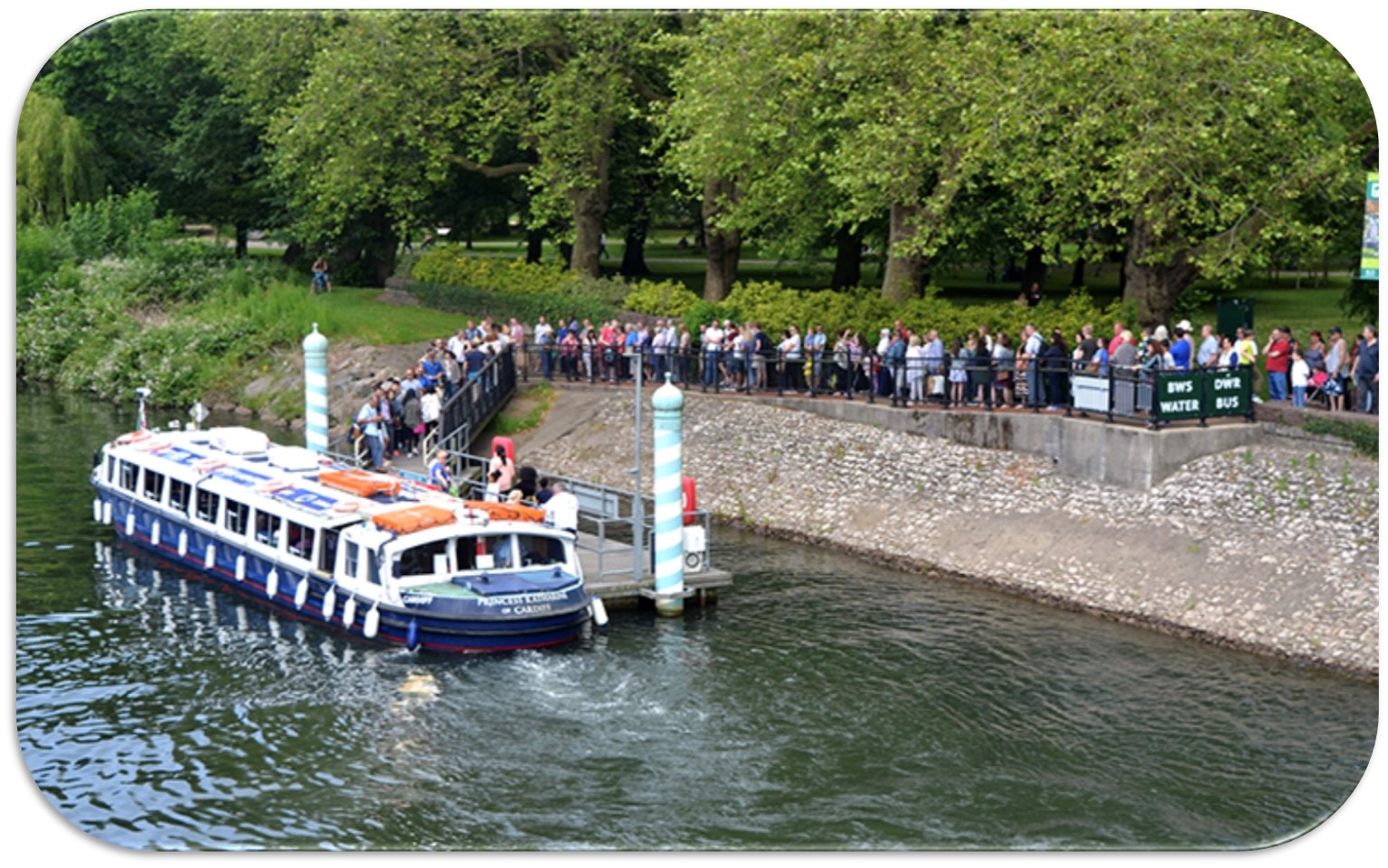 See the sights of Cardiff Bay from a different perspective when you travel by boat:
The Wales Millennium Centre
The Pierhead Building
St Davids Hotel
Norwegian Church
Cardiff Bay Barrage

Passengers will experience the popular waters of Cardiff Bay's with over 2000 boats moored. There are regular events throughout the year such as the Extreme 40's and powerboat racing on the bay.
The boat uses the historic and famous River Taff to travel between the City and Bay. Once very dirty and heavily used for coal transportation. Its now a beautiful regenerated river. Keep a lookout for:
The Cardiff Bay Water Activity Center
Water Quality Protection Systems

Principality Stadium (Previously the Millennium Stadium)......
Along with a vast array of wildlife, such as Swans, Black Swans, Coot's, Cormorant, Heron, Kingfishers, Foxes and Mink
The Departure point from the bay is located on the lower boardwalk of Roald Dahl Plass. The lower side of the Oval Basin and just in front of the restaurants. Once a derelict dockland area its now a thriving area with a huge variety of things to do and see.
A large variety of bars and restaurants can be found along with other landmarks such as the Pier Head building with its' exhibition, the Wales Millennium Centre, Norwegian Church and Red Dragon Centre.
Regular events take place throughout the year
The departure point from the City is located in the beautiful Bute Park which surrounds Cardiff Castle. It is a tranquil area in the heart of the busy city, perfect for relaxing walks and quiet enjoyment. A number of cafes are located in the park including Pettigrew Tea Rooms, Summerhouse Cafe and Secret Garden Cafe, offering a wide selection of refreshments.
The city stop is just 5 minutes from the busy city centre, with the Castle, Stadium, Shopping centres and Museums

Our crew on board are always happy to answer any questions you may have and advise on the best places to visit.
During the busy periods you will also find our staff members at our stop in the city centre and at our ticket booth on the Lower Boardwalk in Cardiff Bay.
Fares can be paid on board the boat after departure or contact us to enquire about advance bookings.