Here you will find all the information about the boat and the expert crew and staff that run it.
The Princess Katharine is a Class V purpose built 90 seat passenger vessel owned and operated by Cardiff Boat Tours Ltd
Princess Katharine is fully licensed and inspected by the Marine and Coastguard agency and far exceeds the
required safety standards. She is regularly maintained by a team of expert engineers and the crew to ensure an excellent standard.
Princess Katharine is licensed to carry 90 Passengers and is equipped with all the latest safety equipment.
A four speaker commentary and PA system is in place to provide passengers with a detailed and interesting commentary during the trip.
The build of the vessel and the two row comfortable seating ensures a smooth and steady experience even in windy conditions. She is powered by highly reliable JCB marine diesel engine and a hydraulic drive system which ensures incredibly quiet and low vibration propulsion. Perfect for those relaxing trips.
Princess Katharine is equipped with a full size marine toilet and wash basin as well and a powerful diesel marine heater which brings the boat to a comfortable temperature for use in the colder winter months.
Princess Katharine operates with two boat masters on board which exceeds the legal requirement. During the busy summer months there is regularly a third boat master on board.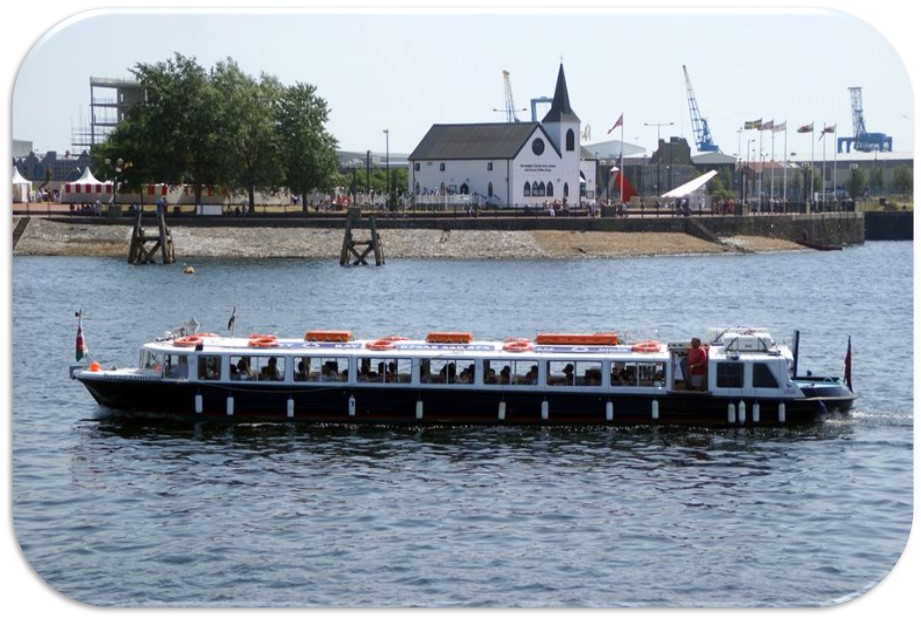 The skippers on board Princess Katharine are highly qualified and experienced MCA Boat Masters and are fully certified in all aspects of the licencing required.
All crew are fully certified in Marine First Aid, Sea Survival, Fire Fighting. Regular training and practice undertaken. All have been trained in the use of our Automatic External Defibrillator.
Many of our crew are ex lifeboat coxswains and Pilot boat skippers.
All shore staff are familiar with the safety equipment on the boat and first aid trained. They too have vast experience in boat tours and customer service.
All staff are DBS checked.
Vessel Information
Official Name - Princess Katharine Of Cardiff
Total Length - 18.89M
Total Depth - 1.52M

Beam - 3.67M
Net Tonnage - 17.81T

Year Of Build - 1977

Hull Material - Ferro Cemment

Top Speed - 8 Knots

Engine - JCB Marine, 85HP. Hydraulic Driven
Safety Equipment Information
Princess Katharine carries a large number of safety equipment on board. This includes items such as:
Automatically launching life rafts. 65 Pax and 30 Pax
130+ Life jackets.
Two Carly floats
Lifebuoys
Throw Lines
Fire Extinguishers to MCA Standards
Fire Blankets
Fire Pump
Cat C First aid kit
Automated External Defibrillator

Each seat has two safety information cards and a safety
announcement is played on every departure